Podcast: Play in new window | Download
Subscribe: Apple Podcasts | Android | RSS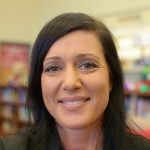 Episode 57 – Aspasia Carlson is in her seventh year as principal of John Marshall High School in Oklahoma City Public Schools.
Carlson explains some of her background and how that prepared her for leadership at John Marshall. She also talks about some of the deeper understandings of teachers and students that only long-term leadership can achieve.
See the corresponding story in Oklahoma City Free Press about the roll out of new Internet hot spot devices on Thursday, Dec. 1. The move is only one of many aspects of being a school that serves students from families who struggle to make ends meet.